Description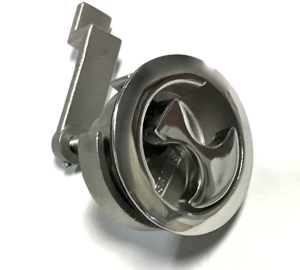 CL316SS 2″ boat stainless steel water tight compression latch. Durable cast stainless steel construction is polished to a mirror finish, and designed for vertical surfaces(not watertight on horizontal surfaces). Designed to withstand  heavy use on hatches such as live wells. 
Lift handle operates compression motion of cam; Pull up to allow handle to seat in vertical position and cam shaft extends down to ease tension. Push handle down to seat flush in housing and the cam shaft pulls upward to tightly position the cam against the framework.
Surface flange outside  diameter: 2.40″
Drilling Hole: 2″ and is secured from backside with 2 S.S. screws
Fits hatch thickness: 1/4″minimum to maximum 3/4″
Mirror Polished
Stainless Steel Solid Cast Marine Boat Compression Latch
Best feature: Adjustable cam with set screw better than bulky dual  lock nuts!
CL316SS 2″ boat stainless steel water tight  compression latch
For OEM pricing or questions call us at  440- 899-9820 or email us at [email protected].