Description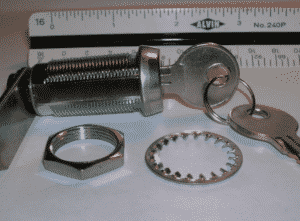 | | | |
| --- | --- | --- |
| Lock # | B | T |
| LR 500-711 | 7/16″ | 1/4″ |
| LR 500-716 | 5/8″ | 7/16″ |
| LR 500-722 | 7/8″ | 21/32″ |
| LR 500-728 | 1-1/8″ | 29/32″ |
| LR 500-735 | 1-3/8″ | 1-1/8″ |
Over 480 hours of salt spray protection
Shuttered keyway and internal o-ring prevents water penetration.
Double bitted reversible key operates lock in either direction.
Over 100 key combinations available.
5 disc tumbler mechanism.
Brass keys, nickel plated.
To install, drill 3/4″ hole, drop lock in and fasten body nut.
View Available CAMS page for this product.
Locks will be keyed alike to individuals unless otherwise specified in a note to seller.
Additional quantities available.
If you have any questions, please call us at 440-899-9820.