Description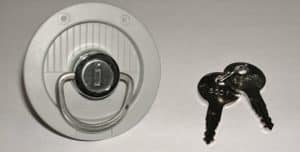 Available Stock Colors:
Black, Gray, Magnolia and Ivory, shown above.
Also available in Platinum, White, Tan, and Stone.
We can color match any carpet or interior.
This handsomely designed latch fits flush to your hatch lid, eliminating tripping and snagged lines. Made of durable plastic, this latch is an attractive solution to the flapping hatch lid. Ideal for all hatch applications. Solid detent provides firm activation. Arrow shows direction cam is pointed.
Lies flush to hatch lid, which eliminates tripping and snagged lines.
Features chrome plated brass, stainless steel and durable plastic construction.
Drains water off, not into the hatch.
Features easy-to-use lift loops that fall automatically back into recess when released.
To install, drill single 2″ hole, place top of plastic body in, drop lock in, slide bottom of plastic body onto lock from underside and fasten body nut. That's it.
A 2″x 3/8″ offset cam will be sent unless otherwise specified in a note to seller.
View available CAMS page for this product.
Locks to individuals will be keyed alike unless otherwise noted to a note to seller.
Additional quantities available. Color black sent if no option selected.
If you have any questions, please call us at 440-899-9820.