Do you want the ability to remotely lock or unlock all compartments on your boat with one click of the key fob in your hand?
Are you looking to remotely control your deck or cabinet lights, bilge blowers, and live wells?
Want to control your engine trim up and down hydraulic controls when trailering your boat?
Do you want a waterproof and floating key fob if you drop it in the water? Want a floating transmitter so you can easily find it in the water?
Are you looking for an original locking system with 12 patents?
Want to have a locking system you can install yourself or ask your dealer to install it on your new boat?
Want to be safe and ready for your next adventure with a product endorsed by pro anglers that you know?
Look no further than The Key Captain!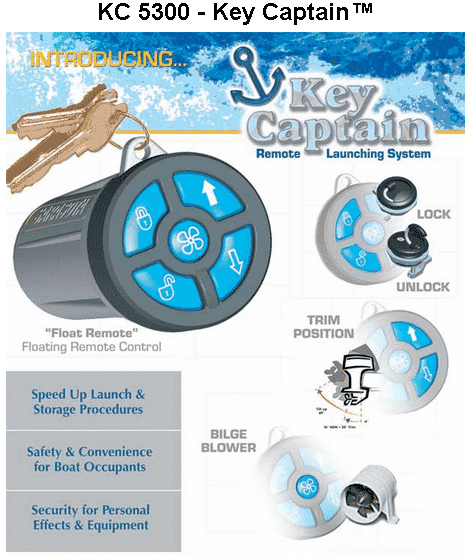 The Key Captain System control panel is a permanently sealed and tamper-proof unit with a coding technique that protects the unit from unwanted interference. The transmitters are designed for marine use, and additional transmitters are available that can be added and programmed by the user. In addition, the system's unique sleep mode also results in low power energy-saving operation, saving battery life.
The Key Captain makes boat owners the smartest ones on the water. The complete security time-saving remote control system provides you with the ability to operate the following functions from outside the boat:
-Lock and Unlock Compartment Lockable Latches
-Trim Down and Trim Up when the boat is on the trailer
-Turn Deck or Cabin Lights on or off
-Turn Bilge Blower on or off
We offer a Fantastic Boat Security System
The Key Captain Is A State Of The Art Electronic Locking System Ideal For Bass Boats and Other Fishing Boats. If You Need Someone To Walk You Through The Options, call us at 1-440-899-9820 and let us know if you'd like to have it installed on a new boat or retrofitted onto your boat through a dealer near you.